Here is a picture of my finished mountain rifle in 7mm Remington BR.
Weighs 5 lbs. 12 oz. fully dressed and ready to hunt.
Bare rifle weighed in at 4 lbs 8 ozs.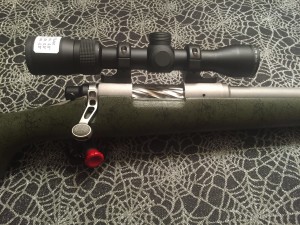 Here is my 100 yard test fire and zeroing target.
The first shot on the bore sight is off the black at 7 o'clock.
After a quick adjustment, the next two are at 11 o'clock in the 10 ring.
2 more clicks down and 2 to the right, and the next 3 rounds made that nice round group in the bullseye. Latter it measured at .370".
First load tried and the rifle is sub 1/2 MOA at 100 yds.
The heart of a rifle is the action, and the soul is the barrel. And you folks at McGowen make one hell of a barrel…..
Greg