McGowen Precision Barrels
Accuracy Got You Over A Barrel?  We'll Straighten Things Out!
Your Source For True Custom Precision Replacement Rifle Barrels.
Shop Our Most Popular In-Stock Inventory
Configure & Order Custom Barrels
Shop Our Newest Prefit Barrel Inventory
Estimated Days To Ship
These times are rough estimates based on the current production schedule.  Each barrel is different.  When ordering, we will let you know our best estimate for your particular barrel.

In-Stock Inventory Prefits
Full Custom Rifle Barrels w/Blank In-Stock
Full Custom Rifle Barrels
NEED CUSTOM? McGowen Has You Covered!
McGowen Precision Barrels is your source for true custom barrels.   All of our barrels are true customs.  Crafted to your specific needs, and hand lapped and finished just for you. Use this handy order form to spec out your dream barrel.  
Choose Your:
Material

Length

Caliber & Twist

Contouring

Chambering, Threading…

& More!
Fax Your Order:
If you prefer to fax in your order, please use this fax form. 
LATEST NEWS, UPDATES & MORE
Professional Barrel Services
Barrel Installations on Bolt Action, Lever Action and Single Shot Rifles

Install Sights

Install Scope Base or Sling Swivels

Get your Favorite Firearm Blued

Cut Dovetails or Drill & Tap For Scope Mounts

Custom Contouring

Octagon and Dodecagon Facets

& Tons More!  Check out our services page to find out the details!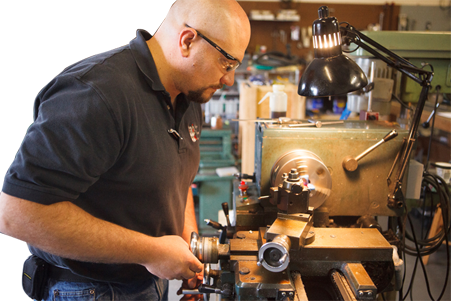 DO YOU NEED JUST A BLANK?
Check out our current available inventory of barrel blanks. Unturned, and ready for you to customize or bring to your gunsmith.