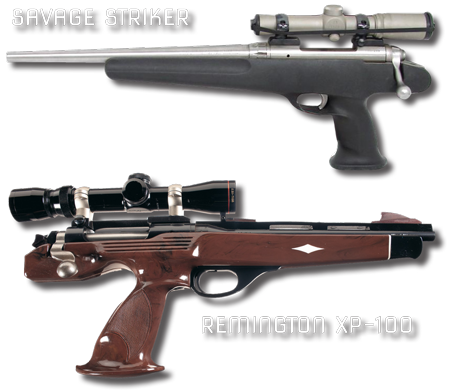 McGowen Precision Barrels offers pistol barrels for the Savage Striker and Remington XP100 series of handguns.
We do not offer Thompson Center Arms Contender or Encore barrels. For T/C barrels please contact one of our customers, Matchgrade Machine.
We offer the barrels in a variety of calibers, twists and cartridge configurations. If you are looking for a different cartridge for you Striker or XP100, keep in mind that what your pistol is currently chambered in will have a bearing on what you can put in your pistol. A good source of information is Wikipedia. Look at the dimensions of your current cartridge including the total length of the cartridge and the rim diameter.
We offer these barrels in both Chrome Moly and Stainless Steel. Price is dependent upon the material and any additions to the barrel such as a muzzle brake, etc.
We also offer the barrels either as complete drop-ins (should always be installed by a competent gunsmith) or as a threaded and contoured blank.
McGowen Pistol Blanks & Barrel Pricing
Chrome Moly Barrel
Threaded
Contoured
Chambered
& Crowned
Stainless Barrel
Threaded
Contoured
Chambered
& Crowned 
Estimated Barrel Turn Around Time
Shop Our Available Pistol Prefits